Join us for a transformative experience at the Crystal Bridges Museum of American Art in Northwest Arkansas
TSC is thrilled to announce that our annual summit is heading to Northwest Arkansas at the renowned Crystal Bridges Museum of American Art. Surrounded by the picturesque landscape of the Ozarks, this iconic museum offers a perfect setting for our collective exploration of sustainable practices. The stunning architecture of the museum, harmoniously blending with the natural environment, provides a fitting backdrop for discussions on environmental stewardship. As participants engage in insightful sessions on sustainability, they will also have the chance to bask in the serenity of the surrounding area and appreciate the museum's commitment to both artistic excellence and ecological harmony. Join us for a conference that not only fuels meaningful discussions on sustainability but also invites you to experience the beauty of responsible coexistence with nature at Crystal Bridges. 
This exclusive and intimate 2-day workshop offers attendees the unique opportunity to witness real-life supply chain improvements in action and gain insights from leaders in the field. To ensure a personalized experience, we are limiting attendance to TSC members, invited guests, and speakers – making the TSC Summit 2024 a special, invite-only event.
This year's conference promises an exciting lineup with over 10 hours of programming, special field trips, receptions, networking sessions, and presentations from industry-relevant speakers. Join us for an enriching experience in the picturesque setting of Northwest Arkansas as we explore the forefront of supply chain sustainability at the Crystal Bridges Museum of American Art. 
We look forward to seeing you in Bentonville! 
Please email Jessica Leonard at jessica.leonard@sustainabilityconsortium.org for inquiries on options to register or speak.  
Interested in sponsoring this event? Click below to learn more about our sponsorship packages.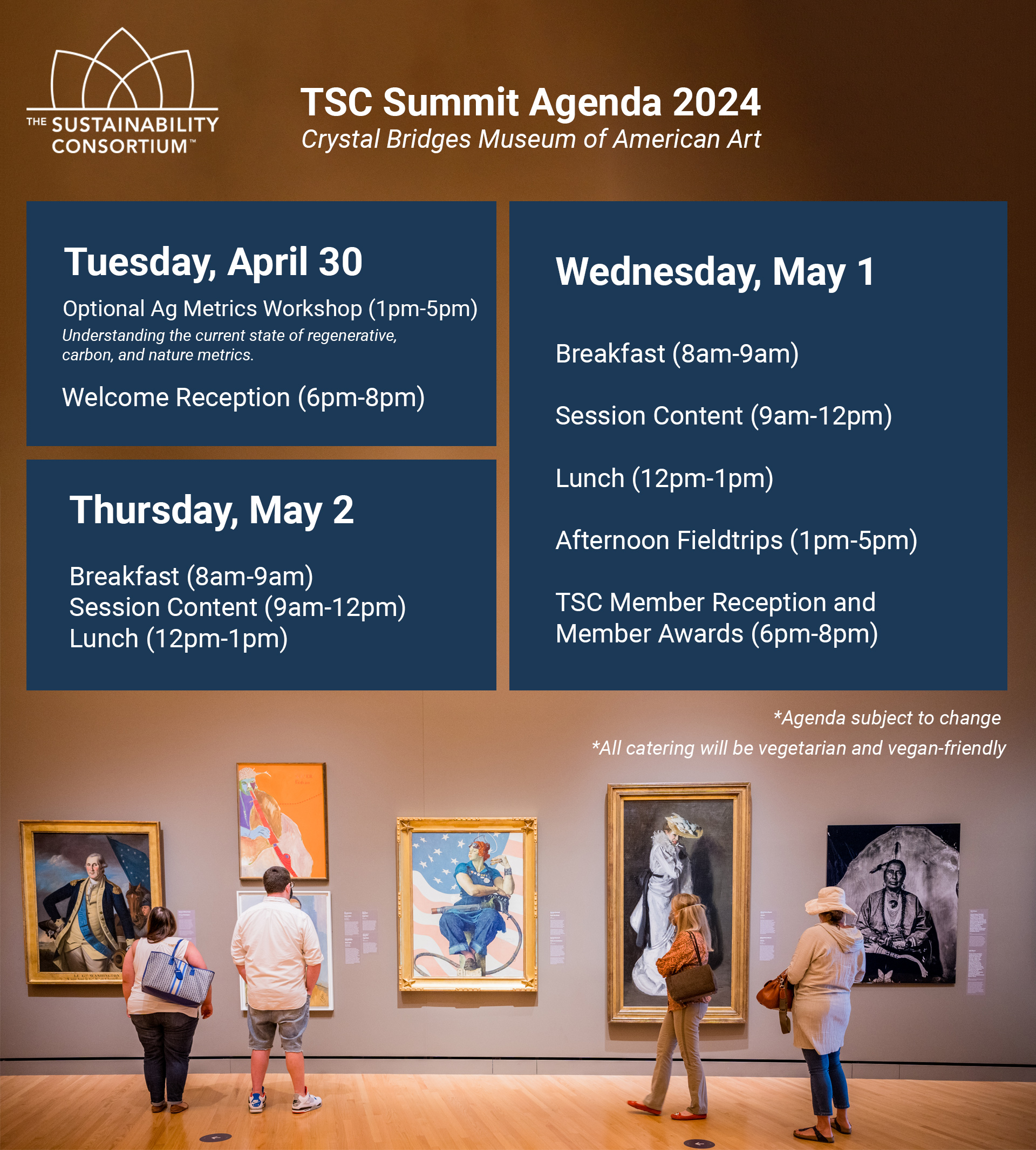 Crystal Bridges Museum of American Art – Bentonville, Arkansas
600 Museum Way, Bentonville, AR 72712
Speaking Opportunities
If you are interested in being a speaker at TSC Summit 2024 contact: Jessica Leonard