Data Collection and Response Calculation

Companies that prioritize supplier engagement and

establish

a

n effective

process for collecting data see the best results

in their THESIS assessment process

.
 57% of THESIS KPIs require you to go upstream into your supply chain to answer them. The quality of the data analytics and insights that THESIS provides relies on the quality of the data you submit.  
Reach out with questions to the TSC Help Desk at: help@sustainabilityconsortium.org 
Download our free guide:

Data Collection and Completing KPIs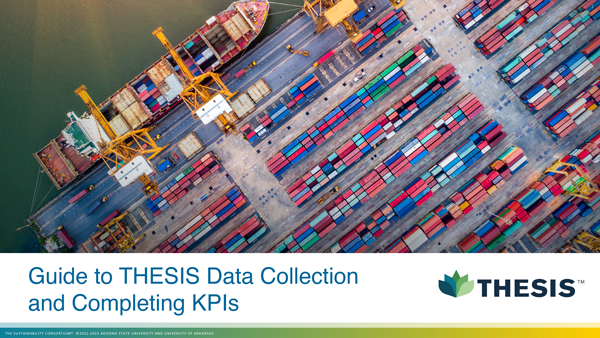 An excerpt

 from a 2023 THESIS Live, Ammi

Borenstein

, a TSC Trained Service Provider shares his

expertise

around getting started with data collection for THESIS.
Trained Service Providers are experienced sustainability expert consultants, with specialized training in THESIS content, KPIs, and methodology. Learn more about our TSP Program
Data Collection Best Practices
Start data collection as early as possible, to ensure you have enough time.
Notify your facilities and suppliers as far ahead as possible that the request is coming so they can plan ahead. This means they are more likely to get the data to you in time.
Prioritize data collection from your major suppliers
For guidance on any specific KPI, reference the KPI Guidance
Start by creating a plan to organize what data you'll need, who to contact to get the data, and identify a process for collecting data. Creating an effective plan ahead of time will greatly improve the efficiency of your process.

 

During each Phase, identify data collection gaps, pain points, and bottlenecks to improve the efficiency of your data collection processes year-over-year and to develop ways to integrate your data collection processes into everyday operations.
Phase 2: Steps for Data Collection and Response Calculation
1. Organize Your Data Collection
Organizing your data collection and creating a plan is an important way to streamline your process, remove potential barriers, save yourself time, and improve the efficiency of your data collection. 
Start organizing your process by:
Identify all your products, all retail buyer(s) they are sold to, and which assessment they are within scope for.

 

Create your facility and supplier lists, even those not owned and not under your operation control. Identify contacts for each.

 

Identify the THESIS Assessment relevant for each of your products and map the KPIs for that assessment onto your products.

 

Map contacts based on who has access to the data you'll need.

 

Identify a process for collecting data by determining any available tools or processes and what works within your organization.

 
2. Execute Your Data Collection
Notify your facility and supplier contacts, coordinating and tracking progress on your data collection. Follow up as needed, providing clear guidance and timelines. 
3. Validate Your Data
Review your data to identify outliers, check for correct units, invalid data, and blank responses. Re-engage your contacts, giving yourself time for corrections. Taking time to validate your data will support using THESIS to drive value for your organization. 
4. Complete Your KPIs
Calculate your results using the data you've collected.  
TSC has tools and resources available in the KPI Guidance in your assessment. Follow the KPI response options and KPI Guidance to identify the quantitative or qualitative attribute that the KPI is requesting. For qualitative attributes, identify the response option that is most common across the relevant SKUs/facilities/suppliers.  For quantitative attributes, calculate a weighted average over SKUs/facilities/suppliers.  
TSC has created THESIS KPI Calculation Tools to help suppliers in answering specific Key Performance Indicators (KPIs) for THESIS.
Each tool includes step by step instructions on how to use the tool to generate your KPI response and is available as a free download from the TSC website. There are Calculation tools for GHG, Wastewater, Textile, Food, and many other KPIs.
5. Complete Your THESIS Assessments
Once you've calculated your KPI responses, you're ready to enter them into your THESIS assessments on THESIS on SupplyShift. All fields must be completed in order to submit an assessment 
Once you've entered your responses on THESIS on SupplyShift, you're ready to share your results with your retailer buyers. Be sure to select all your retail buyers.