Christy Slay named interim CEO effective November 8. Slay has held many leadership roles at TSC, most currently her role as senior director, science and research applications
Slay has been with TSC since 2009
Euan Murray, CEO of TSC since 2016, taking new role at NatureMetrics, a UK-based company that is a world leader in using eDNA for biodiversity assessment
TSC's board will announce the launch of a formal search for a new CEO in the coming weeks
Scottsdale, AZ – The Sustainability Consortium (TSC) announced today that Euan Murray will be stepping down as CEO as of November 5th to take a position at NatureMetrics, and Dr. Christy Slay will step up as interim CEO effective November 8th.
In his five years as CEO of TSC and before that as COO and Chief Strategy Office, Murray has led a transformation of the organization through an unprecedented period of growth as the needs of the sustainability industry have changed rapidly. Under his leadership, TSC now has more than 1,500 suppliers, 80+ members, and 13 retailers using its tools, covering almost $1 trillion in retail sales. Murray's accomplishments during the last five years are numerous, from launching and developing The Sustainability Insight System (THESIS) to forging important new partnerships with companies all over the globe in the pursuit of TSC's mission.
Slay was named interim CEO in an announcement to TSC members on October 12th. Slay began with TSC in its founding year in 2009 and has held many leadership roles including her current role as senior director, science and research applications. Additionally, Slay leads the way on strategic planning for THESIS, directs the technical team on THESIS content creation, led the development of TSC's commodity mapping program, and is the lead on several large grants. Slay has recently been published in Science and Nature Climate Change and holds adjunct faculty positions at both the University of Arkansas' Walton College Graduate School of Business and ASU's College of Integrative Science and Arts. Slay came to TSC from the National Audubon Society.
Jon Johnson, TSC Chairman of the Board, said, "We thank Euan for his long service to TSC during a time of growth and change for TSC. TSC would not be as strong as it is, with such dedicated staff and members, without Euan's leadership. Euan's goal of impact at scale for TSC is off and running. We are grateful for his leadership, and Christy has my full support to step into this role. She is supported by one of the strongest leadership teams in the industry, and I know they will continue TSC's success."
Murray thanked the TSC team, members, and partners for their many contributions and accomplishments. Murray said, "I am immensely proud of everything TSC has done over the last 5 years. I know I am leaving TSC in great hands with Christy as interim CEO and the fantastic staff at an organization with a mission close to my heart."
In her interim role at TSC CEO, Slay writes, "As a TSC 'insider', I know the heart and soul of this organization is our staff, our members, and our partners. I am honored to step into this interim position to seamlessly continue our mission and strategic direction forward."
Slay will work alongside Johnson and the TSC managing board to begin the process of evaluating the opportunity for our next CEO. TSC's board is made up of TSC All Access members that include retailers, brands, NGOs and universities. Current board members include representatives from Walmart, Unilever, Henkel, PepsiCo, HSBC, The Environmental Defense Fund (EDF), WWF, Cornell University, Wageningen University and Research, Arizona State University, and the University of Arkansas.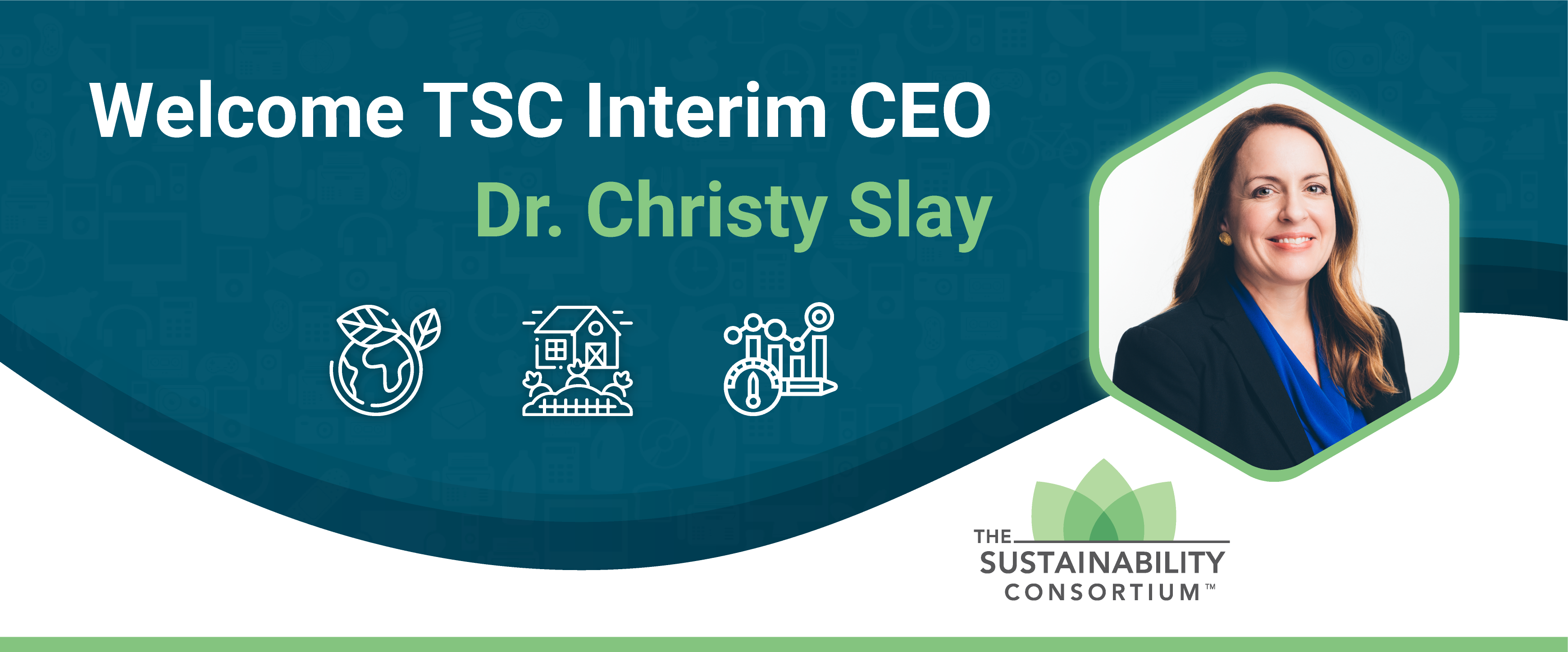 Christy Slay
Interim CEO & Senior Director, Science and Research Applications
Dr. Christy Slay was appointed TSC's interim CEO in 2021 and also directs TSC's science and research application activities, working to develop a global, transparent, scientifically based measurement and reporting system for product sustainability. Slay has been with TSC since its inception in 2009 and has held key leadership roles during her tenure. She currently leads the way in our strategic planning for THESIS, directs the research and development team in THESIS content creation, leads the development of TSC's Commodity Mapping program, leads many of TSC's high-profile partnerships, and is the Principal Investigator on several of TSC's largest grants. She publishes in notable scientific journals, most recently in Nature Climate Change on global forest carbon fluxes and Science on the drivers of global forest loss. She has also co-authored reports on sustainable agricultural metrics and climate change resilience in supply chains featured on HSBC's Centre of Sustainable Finance.
Christy was recently featured on CNBC as an expert on supply chains and climate change. Christy has 23 years of experience as an educator in both collegiate and environmental education settings. In addition to her adjunct faculty role at the University of Arkansas instructing a graduate sustainability course at the Walton College Graduate School of Business, she holds an adjunct faculty position at ASU's College of Integrative Sciences and Arts. She received her doctorate in biological sciences from the University of Arkansas. Prior to her graduate research, she led curriculum development and strategic planning with the National Audubon Society where she also authored articles for Audubon Magazine. She received her B.A. in biology from Hendrix College attending courses at Birkbeck College at the University of London. She serves on the board of the Ozark Natural Science Center, a residential nature education center for school children. In her spare time Slay co-leads cave ecology research for the HICAVES Project on the island of Hawaii discovering new species and featured in a documentary on Nature PBS. Christy is based in Fayetteville, Arkansas, is an avid birdwatcher, and loves spending time exploring the Ozark mountain trails and rivers with her biologist husband Mike and rescue dog Roxie.
About TSC
The Sustainability Consortium (TSC) is a global non-profit organization transforming the consumer goods industry to deliver more sustainable consumer products. We work to enable a world where people can lead fulfilled lives in a way that decouples their impacts on people and the planet. Our members and partners include manufacturers, retailers, suppliers, service providers, NGOs, civil society organizations, governmental agencies and academics. TSC convenes our diverse stakeholders to work collaboratively to build science-based decision tools and solutions that address sustainability issues that are materially important throughout a product's supply chain and lifecycle. TSC also offers a portfolio of services to help drive effective improvement and implementation. Formed in 2009, TSC is jointly administered by Arizona State University and the University of Arkansas and has a European office at Wageningen University and Research in the Netherlands. For more information visit www.sustainabilityconsortium.org.
Media Inquiries:
Erika Ferrin
The Sustainability Consortium
erika.ferrin@sustainabilityconsortium.org
480-965-7752