THESIS Supplier Case Study:
CHURCH & DWIGHT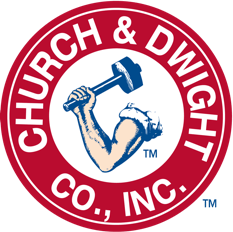 About
Church & Dwight is a leader in the Household Consumer Products and Personal Care industries, with such brands as ARM & HAMMER™, Trojan™, First Response™, Nair™, Spinbrush™, OxiClean™, Orajel™, Vitafusion and more. They are one of the fastest growing Consumer Packaged Goods companies and have outpaced the Standard & Poor's by more than three times over the last 10 years.
Commitment to Sustainability
Church & Dwight is committed to making great products and to produce them in facilities with robust environmental, health and safety performance. They work toward this high-performance culture by adhering to well established principles defined in the company environmental and safety policies. Church & Dwight corporate sustainability goals include improving the sustainability profile of their products (not only from packaging and ingredients, but to all phases across the lifecycle), positively impacting our employees and the communities where they operate, and reducing their environmental footprint. They are reducing their environmental footprint by increasing renewable energy usage, reducing water and greenhouse gas emissions, and reducing solid waste to landfill. Church & Dwight was also the first and only corporate sponsor of the first Earth Day in 1970. In 2019, C&D's continued progress earned various external recognition, including the 2019 Barron's Most Sustainable Companies list, the EPA's Green Power Partnership Top 100 list, the JUST Capital America's Most Just Companies list, Newsweek's Top 100 list of America's Most Responsible Companies and the FTSE4Good Index Series.

THESIS Assessments Results

THESIS Goals
Church & Dwight has a rich heritage of a protecting people and the planet.  This began over 100 years ago when they started using recycled materials in their cartons. They recognize that customers and consumers are increasingly demanding transparency. By using THESIS to measure many different product categories, the company is taking their sustainability heritage and expressed goals and making sure they are represented in their products through increased transparency and carbon footprint reduction.  C&D further uses THESIS to reach corporate sustainability goals related to chemicals of concern, packaging, responsibly sourced material including palm oil and conflict minerals and worker health and safety.
Using THESIS
THESIS performance assessments help C&D make sure over 97% of chemicals of concern are removed from their formulated products and help achieve a current, 84% recyclability rate for global packaging
In 2020, C&D announced that they achieved their 2017 goal of no longer using PVC in their core primary and secondary, global packaging
In Fabric Care, C&D delivered their new Super Concentrated Arm&Hammer plus OxiClean Laundry Detergent product using 37% less plastic and 30% less water
It would be quite difficult for Church & Dwight to be able to measure our product category sustainability performance on our own. THESIS is the best 'cookbook' on the shelf of tools and resources we have access to in order to reach our product and corporate sustainability goals. THESIS enables us to effectively measure and quantify the performance of our wide range of products that we are actively working to improve.