THESIS Supplier Case Study:
CAMPBELLS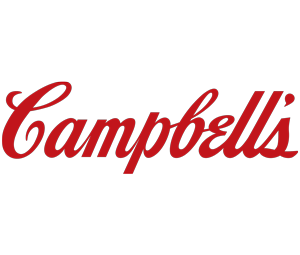 About
Campbell Soup Company is a multi-national food company that makes a range of high-quality soups and simple meals, beverages and snacks. Campbell is driven and inspired by its purpose: Real food that matters for life's moments. Led by the iconic Campbell's brand, its portfolio extends beyond soup to foods such as Pepperidge Farm cookies including Milano and Farmhouse, Goldfish crackers, Snyder's of Hanover pretzels, Lance sandwich crackers, Kettle Brand and Cape Cod potato chips, Late July snacks, Snack Factory Pretzel Crisps, Pop Secret popcorn, Emerald nuts, V8 beverages, Plum Organics baby food, Swanson broths, Prego pasta sauces, Pace Mexican sauce, and Pacific Foods broths, soups and non-dairy beverages.
Commitment to Sustainability
Campbell's corporate responsibility strategy aims to deliver on the promise of its purpose through food that is ethically and sustainably grown, sourced, produced and shared. To advance this mission, the company focuses its efforts on sustainable agriculture, responsible sourcing, sustainable operations and community impact, engaging stakeholders along the entire value chain. Campbell has long been a steward of natural resources, building its business on conservation and strong environmental practices. The company continually evolves its business to meet market conditions, best practices, and social and environmental demands.

THESIS Assessments Results

THESIS Goals
At Campbell, transparency is a key ingredient for delivering on the promise of its purpose. Participation in the THESIS Index is an important opportunity for Campbell to live into this value and purpose every year. Campbell's goal is to communicate to customers, consumers, and other stakeholders on the progress being made across its brands and value chains. Its performance on the THESIS Index is one way to measure this progress.
Using THESIS
THESIS performance assessments and associated tools have been a helpful resource for identifying, managing, and monitoring key hotspots in Campbell's various value chains.

For example, Campbell has a corporate commitment to source 50% of select priority ingredients from acres enrolled in sustainable agriculture programs.

For the THESIS Juice and Sauces categories, Campbell has advanced sustainability across the value chain. Drivers to this success have included the fact that the company is vertically integrated in tomato processing, its close relationships with its tomato growers, and its investments in a tomato sustainability program.
THESIS has helped Campbell to identify metrics to advance responsible pest management in key ingredients such as tomatoes, which are a primary ingredient in its juices and sauces.
THESIS helps Campbell both to identify areas of opportunity in our supply chains and to determine our competitive advantage in terms of sustainability. Utilizing THESIS helps us to proactively develop programs that support multiple brands and customers, while improving our environmental and social impact.