Agri-Food Transition Summit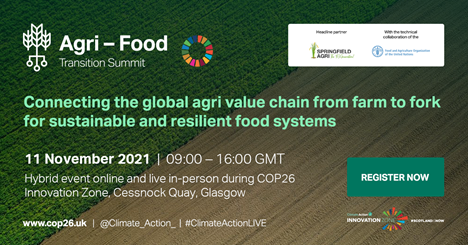 Location: Innovation Zone – Cessnock Quay, Glasgow
Format: Hybrid Event (Live in-person and online)
With the technical collaboration of the Food and Agriculture Organization (FAO), Climate Action presents the Agri – Food Transition Summit, taking place as a hybrid event live in-person and online from the Innovation Zone during COP26 in Glasgow on the 11 November.
The Summit has been designed in response to the growing demand for new models of multi-stakeholder collaboration to achieve food security, sustainable development and other global goals outlined in the UN Sustainable Development Goals while achieving the Paris Agreement objectives.
Register now to discuss the critical nature of accessible and robust public and private sector investment and collaboration to support our global food systems in their transition to a low-carbon, equitable and resilient future.